They say good things come in threes, right? I swear this is my last post today, lol. This past week I received two pieces of good news and I'm so excited I had to share! :)
Firstly I found out that
this
card won a prize at
Party Time Tuesdays
!
As this card was one of my most favourite that I've made recently I was really excited! I will be receiving a prize from
Crafty Sentiments Designs
which makes this even more fun!
While that was a fun bit of news, the second bit was the best news. I was chosen to be a member of the design team at
Pause Dream Enjoy Challenges
!!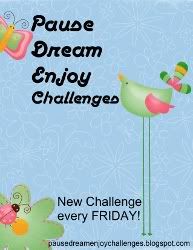 I am soooo excited! I love the premise of the challenges. Every week the challenge consists of a topic or question. There will be a different challenge every week of the year. You can participate during the month to receive a prize, but if you would like to catch up the challenges are left open until the end of the year. Some of the design team members are making a book of their projects so that they can document their crafty journey throughout the year. Great idea, eh?! My first post will be on July 6 but don't wait until then to visit, they have a great challenge going on right now asking you to use the first three things you grab in your craft room, or three things the same. Since I'm not officially a member of the team yet I couldn't help but join in! :)